The Field Post Offices of Atjeh;
numbers 1, 2 and 3

by Hans Kruse, translation by Ben Jansen
Original article (in Dutch) can be found on www.puntstempels.nl


Editor's note: This article is one of a series of articles appearing on www.puntstempels.nl. In order to make these articles available to a wider audience the ASNP has volunteered to translate them into English. This will take some time, so please go to the Website occasionally to check for updates.


---
The Atjeh expeditions

Atjeh is a sensitive subject in the colonial history of the Netherlands. Its inhabitants refused to be subjugated, and following a declaration of war, it was decided to initiate a military expedition early 1873. This expedition failed miserably. A second expedition was launched on November 12, 1973, in order to get hold of the situation in Atjeh. This expedition comprised of three brigades, totaling about 14,000 men, from Batavia (present Jakarta). This expedition landed on the coast of Atjeh on December 9 and 10, and each brigade was assigned its own field post office.

In the course of the expedition, the 'Karten' or the palace of the sultan, was captured on January 24, 1874. Following this event, Atjeh was declared part of Dutch territory on January 31. A military authority was established to provide direct government. The former Karten was renamed Kotta Radja on March 19, 1874.


The main forces returned to Batavia on April 21, 1874. About 5,000 men were left behind in Atjeh to maintain order and peace, and one field post office remained for their needs. Because the situation remained tense through about 1881, the military authority continued to govern. The peace gradually returned during the course of 1881 and 1882, upon which the military authority was replaced by a civil government and the field post office was replaced by four ordinary post offices.


The postcards

A government decree of September 27, 1883 determined that 25,000 postcards with the imprint 'SPECIMEN' would be made available at no cost to the personnel of the second expedition. With this decree, Atjeh obtained the use of the po

stcard on January 1, 1874, while the rest of the Dutch Indies had to wait till April 1, 1874.

The field post offices received a numeral cancel (66, 67, and 68) and a circular cancel in which included the office number. Field Post Office 1 received cancel 66, FPO 2 number 67, and FPO 3 number 68. In 1875, upon departure of the main forces to Batavia, cancel 67 was given to Oenarang, while Padang Pandjang received cancel 68.

Field Post Office 1 continues to function, and the number 1 mark disappears from the circular cancel in 1875. During the second half of 1881, the circular cancel is replaced by a small circular cancel Atjeh (rare), intended for temporary use.

Around the end of February, this small circular Atjeh cancel is subsequently replaced by a small circular cancel Kotta-Radja.

Postal cards of the three Field Post Offices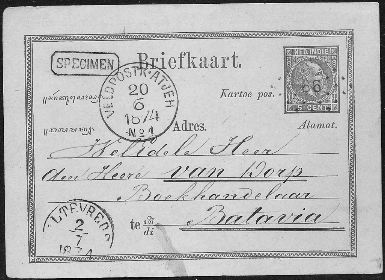 Postcard from Field Post Office Atjeh, Number 1, June 20, 1874, to Batavia, with specimen cancel (postal card was provided to the troops free of charge).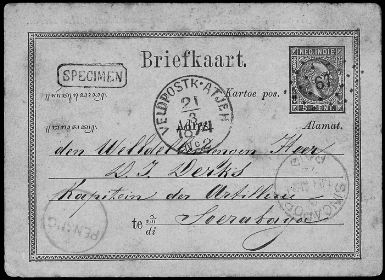 Postcard from Field Post Office Atjeh, Number 2, March 21, 1874, to Soerabaija via Penang and Singapore with specimen cancel (postal card was provided to the troops free of charge). Not in the collection of the author.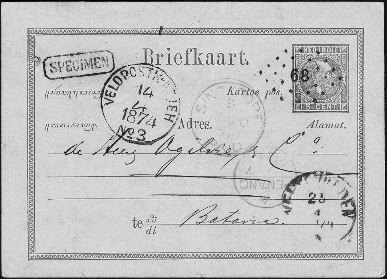 Postcard from Field Post Office Atjeh, Number 3, April 14, 1874, to Batavia via Penang and Singapore with transit cancel Weltevreden, April 25, 1874 with specimen cancel (postal card was provided to the troops free of charge).


References:

Sleeuw, R.A.; De Nederlandsch-Indische Briefkaarten afgestempeld Veldpostk. Atjeh 1874-1881; De Postzak 138, December 1983

Sleeuw,R.A.; De Nederlands-Indische briefkaarten afgestempeld Veldpostk. Atjeh 1874-1881 (additional information); De Postzak 143, March 1985

Sleeuw, R.A.; De emissies 1870, 1883 en 1892 van Nederlandsch-Indie; NBFV, April 1994

Storm van Leeuwen, P.; De Nederlands-Indische postagentschappen te Singapore en Penang; De Postzak 162, december 1989

Storm van Leeuwen, P.; Veldpostkantoor Atjeh No. 1; De Postzak 170, December 1991


---
Netherlands Philately Vol. 31, No. 5 #