The Rubber Cancels used on Postal Packages (1925-1926)

By Hans Kremer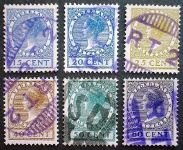 A rubber trial postmark to cancel stamps on forms to be attached
to postal packages was used in Amsterdam (with an ASD prefix ),
Rotterdam (RT), 's Gravenhage (GV), and Scheveningen (SV).


The various numbers represent sub-offices; RT 2 for example
(shown at the top right in the illustration at the left) was used
at the Rotterdam Goudsche Singel sub-office.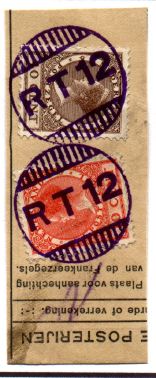 The complete list of numbers and associated sub-post offices is
listed at the end of this article.
The postmarks were first used on January 15, 1925 and were
withdrawn in mid-1926. However, some Rotterdam sub-stations
used these cancels as late as 1941.

The trial was deemed unsuccessful due to the quick deterioration
of the cancels (the rubber was too soft, causing ink-smearing and
they wore out quickly as well).




















---
List of numbers and associated sub-post offices:
Amsterdam.

ASD Main Post Office
ASD-1 Hemonystraat ASD-15 Watergraafsmeer
ASD-2 Amstel ASD-16 Bloemgracht
ASD-3 Linnaeusstraat ASD-17 v. Eeghenstraat
ASD-5 v. d. Helststraat ASD-18 2de-Oosterparkstraat
ASD-6 Haarlemmerdijk *ASD-19 Diamantbeurs
ASD-7 J. P. Heyestraat ASD-20 St. Anthoniebreestraat
ASD-8 Hobbemastraat ASD-21 Sumatrastraat
ASD-9 Kwakersplein *ASD-22 Bijenkorf
ASD-10 Pr. Hendrikkade ASD-23 Mag. Gerzon
ASD-11 Kerkstraat ASD-24 Saxen Weimarlaan
ASD-12 Tulpplein ASD-25 Zaanstraat
* ASD-13 Veemarkt ASD-26 Noord
ASD-14 Sloterdijk

Rotterdam
RT Main Post Office
RT-1 Nieuwe Binnenweg RT-9 Burg. de Roosstraat
RT-2 Goudsche Singel RT-10 's-Gravendijkwal
RT-3 Avenue Concordia RT-11 Bergweg
RT-5 Maaskade RT-12 Ruigeplaat
RT-6 Calandstraat RT-13 Afrikaanderplein
RT-7 Charlois *RT-14 Mathenesserdijk
RT-8 Katendrecht RT-15 Vreewijk

's-Gravenhage
GV Main Post Office
GV-1 Balistraat GV-10 Willem de Zwijgerlaan
GV-2 van Limburg Stirumstraat GV-11 Witte Brug
GV-3 Z. O. Buitensingel GV-12 Copernicusplein
GV-4 Pr. Hendrikplein *GV-13 Mag. Bijenkorf
GV-5 Gouden Regenplein GV-14 De la Reykade
GV-6 Conradkade *GV-15 Huis ten Bosch
GV-7 Charl. de Bourbonstr *GV-16 Binnenhof
GV-8 Wouwermanstraat *GV-17 Vredespaleis
GV-9 Loosduinsche brug GV-18 Rijswijksche weg

Scheveningen
SV Main Post Office
SV-1 Gentsche Straat

* According to the PTT's headquarters numbers ASD 4, 13, l9, 22, RT 4, GV 13, 15, 16, and 17
were never issued.
An Amsterdam 4 sub-office did not exist.
In Rotterdam the Hillegersberg sub-office was identified as number 4 (but not until April 1, 1927)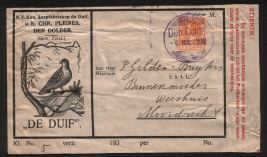 Two other rubber cancels that look like they would also belong to the list mentioned above
are the Den Dolder and Velddriel cancels.
This however, is not the case. The Den Dolder cancel has a date associated with it (only known for 1930);
the Velddriel cancel shows just the name of the town.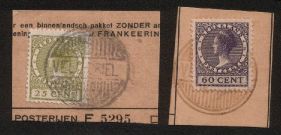 Ref:
H.T. Hospers, Gummistempels:korte proef, interessant verzamelgebied; Philatelie 6-1993, pages 403- 408.
H.T Hospers, Personal Correspondence, 2002
H. Lampe Fzn., De Gummi Proefstempels, Maandblad 'Philatelie', May 1928, pages 87, 88.
John van Rysdam, The Rubber Cancels of the Netherlands, Netherlands Philately, June 1994, Vol. 18, #4
Traanberg, Afstempelingen, Den Dolder, Nederlands Maandblad van Philatelie, March 1930